qbSS19: Campus Description
qbSS19: Campus Description
Gulf Coast Campus (Rice University - Houston, Texas)
Expand the sections below to learn about the venue and area surrounding the 2019 q-bio Summer School.
The summer school will be held at Duncan Hall in Rice campus. Duncan Hall serves as the home of Computational Engineering at Rice University. Computational Engineering includes departments such as Computer Science, Computational and Applied Mathematics, Electrical and Computer Engineering and Statistics.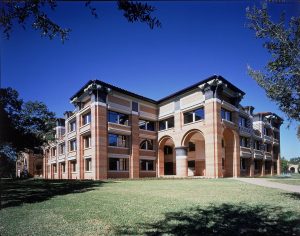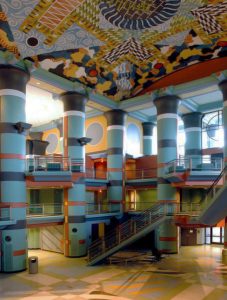 More about Duncan Hall
The architect, John Outram, is known for his provocative use of interior and exterior decoration. Outram believes in an architecture of ideas and themes. He uses these themes to create thought-provoking interiors. He believes that buildings and their inhabitants interact in fundamental and subconscious ways. Bricks, mortar, concrete and wallboard are employed to foster a sense of community and to imbue Outram's buildings with a sense of energy and of purpose.
Thus, Duncan Hall is designed to encourage interaction across academic disciplines, specifically disciplines focused on applying computation to problems in engineering and science. It contains private spaces for concentration and public spaces for collaboration. It has laboratories and classrooms for education and auditoriums for presentation. Its interior vistas catch the eye and its exterior accents harmonize with the campus.
The ceiling mural in Martel Hall, Duncan Hall's main open space, is entitled "The Birth of Consciousness." It aptly conveys this message as envisioned in the mind of Outram. Viewing the mural is a regular stop on many Rice campus tours.
Keith Cooper, the L. John and Ann H. Doerr Professor of Computational Engineering and Associate Dean for Research in the George R. Brown School of Engineering, served as the faculty representative on the design team for Duncan Hall. For an inside look at the building's concept and construction, see Cooper's website: http://www.cs.rice.edu/~keith/DuncanHall/.
Rice University campus is less than 30 min drive from two major Houston area airports, Hobby (HOU, hub for Southwest) and Intercontinental (IAH, hub for United), which provide non-stop access to many major US airports and international hubs. Both Uber and Lyft operate in Houston and offer convenient and relatively inexpensive way to ride from/to the airport. The visitors also may opt to take Supershuttle (https://www.supershuttle.com/locations/houston-iah-hou/ ) or taxi (Yellow Cab: 713-236-1111, Fiesta Cab: 713-225-2666, and United Cab: 713-699-0000). For information on other public transportation options, please refer to transit directions on google maps (https://maps.google.com/landing/transit ).
For those driving to the conference site, paid visitor parking is located in a parking garage beneath the BRC (entrance on Dryden St). All parking can be accessed by credit card. Use the same credit card to exit at the end of the day. All-day parking costs $12. Cheaper parking options are available on the other parking lots within walking distance. For additional information about campus parking, visit Parking for Visitors website.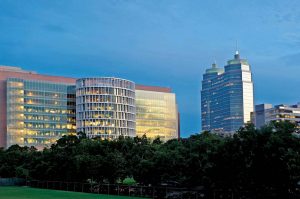 Lodging for attendees will be reserved in Rice Residential Colleges (dorms). Either single or double occupancy rooms are available. Private bathrooms are available in many of the double and suite style rooms.
The fee for lodging and meals for the duration of the event is included in the $1500 Summer School registration fee (single occupancy).
Students who receive financial aid will be assigned to double occupancy rooms.
(University of New Mexico - Albuquerque, New Mexico)