q-bio Conference (2018)
Venue & Travel
Venue
The conference will be held at the Bioscience Research Collaborative (BRC, 6500 Main, Houston, Texas 77030), an innovative space housing a number of labs from Rice University as well as from other Texas Medical Center institutions. Opened in 2009, the BRC serves as a local hub for research in biosciences and human health. More than just a building, it is a catalyst for interdisciplinary collaboration, creativity, collaboration and learning and is uniquely equipped to conduct small- to medium-sized conferences. Q-bio talks will be held in a 287-seat auditorium, and tutorials and satellite workshops will be held in   smaller auditoriums and lecture rooms. The poster sessions and meals will be held in an adjoining large event/exhibition hall.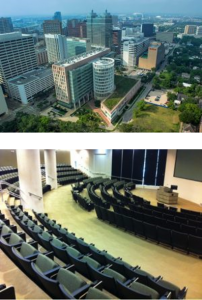 Travel
Rice University campus is less than 30 min drive from two major Houston area airports, Hobby (HOU, hub for Southwest) and Intercontinental (IAH, hub for United), which provide non-stop access to many major US airports and international hubs. Both Uber and Lyft operate in Houston and offer convenient and relatively inexpensive way to ride from/to the airport. The visitors also may opt to take Supershuttle (https://www.supershuttle.com/locations/houston-iah-hou/ ) or taxi (Yellow Cab: 713-236-1111, Fiesta Cab: 713-225-2666, and United Cab: 713-699-0000). For information on other public transportation options, please refer to transit directions on google maps (https://maps.google.com/landing/transit ).
For those driving to the conference site, paid visitor parking is located in a parking garage beneath the BRC (entrance on Dryden St). All parking can be accessed by credit card. Use the same credit card to exit at the end of the day. All-day parking costs $12. Cheaper parking options are available on the other parking lots within walking distance. For additional information about campus parking, visit Parking for Visitors website.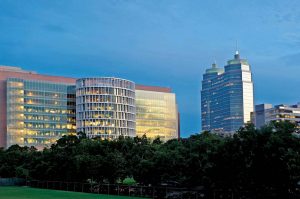 Lodging
Budget lodging to attendees can be reserved in Rice Residential Colleges (dorms) within 5-10 minute walking distance from the BRC. Either single or double Occupancy Rooms are available. Private bathrooms are available in many of the double and suite style rooms. 
On-campus (dorm) housing: 

Double room (

shared with a roommate

): $200 for the 4 nights including breakfast; $50 for an extra night
Single room: $245 for the nights including breakfast; $60 for an extra night
Double room (

staying as single

): $300 for the 4 nights including breakfast; $75 for an extra night
Lodging is also available in nearby hotels, including those listed below that are within 2 blocks of the conference venue:
Hilton Houston Plaza/Medical Center
6633 Travis Street
Houston, TX 77030 USA
Phone: 1-713-313-4000 Fax: 1-713-313-4660
A limited number of rooms are available under the Rice University rate. Call the hotel to book the individual room & ask for the Rice rate.
Wyndham Houston – Medical Center Hotel and Suites
6800 Main Street
Houston, TX 77030 USA
Phone: 1-713-528-7744
*A block of rooms is held in the hotel and can be reserved using the conference block code
Houston Marriott – Medical Center
6580 Fannin St
Houston, TX 77030
Phone: 713 796 0080
In addition, the following hotels are very close to campus and may offer free shuttles within a 3-mile radius that will drop you off at the Rice University BioScience Research Collaborative, 6500 Main. Please inquire about the shuttle service with the hotel to confirm.
Hotel Zaza
5701 Main Street
Houston, TX 77005 USA
Phone: 1-713-526-1991 / 888-880-3244 Fax: 1-713-526-0359
Crowne Plaza Medical Center
8686 Kirby Drive
Houston, TX 77054 USA
Phone: 1-713-748-3221 Fax: 1-713-796-9371
Residence Inn, Marriott – West University
2939 Westpark Drive
Houston, TX 77005
Phone: 713 661-4660 
Things To Do
Looking for additional activities to participate in while visiting Houston? Click here to see what this city has to offer!